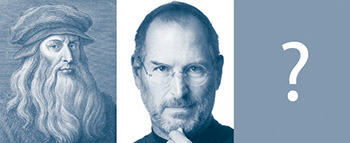 The new emerges from the combination of the already known. In a project economy the innovation happens more and more in cooperation of specialists, especially between companies. Hence the cross-link competence becomes increasingly important in order to coordinate the different partners purposefully. At this point we contribute with our competence in project management and share our experience in cooperation and joint venture management.
Our offer starts with bringing together innovative IT with the customer companies and their demand. The next step is developing a project draft. On approval of all stakeholders the realization can start – for there is nothing good unless one does it.
The offer therefore addresses two sides.
The Technology Push offer is aimed at companies that are responsive to innovations in the technological or service area and want to ensure competitive advantages by IT innovations.
The Demand Pull offer aims at technology-oriented persons and companies (also start-ups) who want to realize their innovative IT developments with customer companies.